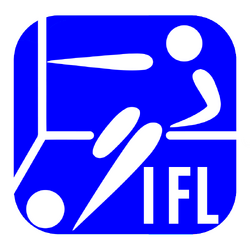 Welcome to the International Futsal League (IFL), a league for five-a-side indoor association football/soccer known popularly in Brazil, Spain, and Russia as futsal. This league is launching soon, so reserve some places before all the slots are gone!
Sign-up forum
Country:
AIFF Country Code:
City:
Team Name:
Nickname:
Logo:
Arena:
Capacity:
Roster:
Notes
You need to be an AIFF member to join this league! Limit of 3 teams per AIFF nation.
Rosters are required to be filled out as soon as possible. In futsal, teams usually have a main roster of 12 players, 5 starters and 7 reserves. Please bold your starters and include positions (Goalkeeper/GK, Defender/DF, Forward/FW) and numbers with the roster. Three common starting positions include one goalkeeper, two defenders, and two forwards; one goalkeeper, three defenders, and one forward; one goalkeeper, one defender, and three forwards.